Bal Vikas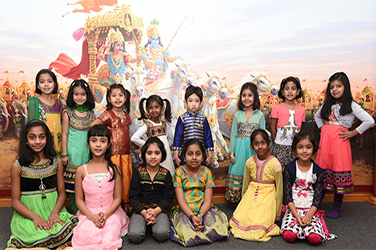 Bal-vikas group
IACC&T Bal Vikas Program

Some of you may not know that the origin of the IACC&T Bal Vikas program dates back to over fifteen years ago from early 2001. IACC&T has been very fortunate to have several groups of dedicated volunteers who have devoted a lot of energy in teaching basic understanding of Hinduism, cultural heritage, and teachings from Bhagvad Geeta, Ramayana and Mahabharata to children from the community.
IACC&T is proud to continue its focus on educating children who are the future caretakers of what the community has built. During the past year and continuing in 2017, the Bal Vikas program has been re-established with a deep commitment by several volunteers most notably Sujatha Krishnamurthy. The IACC&T Board greatly appreciates their dedicated efforts as well as support from many others involved with the Bal Vikas program. IACC&T cordially invites the parents to seriously consider enlisting their children ages 4 to 12 in IACC&T Bal Vikas program. It is the best investment we can make in educating our children. Bal Vikas program was started with the intention of instilling and developing in our young children Hindu cultural, moral and spiritual values. From the time it started, Bal Vikas has enrolled 15-20 children, aged 4-11 years.
The classes are held second and foruth Sundays in the Temple premises from 11:30 am to 1:00 pm. On Sundays when no-satsangs are scheduled, an additional half-hour is spent in teaching the Devanagari script (used in Sanskrit, Hindi, Marathi and other languages).
The Bal Vikas program is mainly divided into three segments
Religious
Cultural/regional and
Leisure/group activities
The children are exposed to learning important aspects including prayers, selected shlokas, and bhajans. Learning is mainly focused on talking about festivals, moral stories, golden rules of Dharma, and important places in India. The final segment enjoyed by the children include group activities - educational games, puzzles, coloring, painting, drawing, making clay models (e.g. Ganesha), making cards for special occasions, Yoga exercises, asanas and Surya Namaskar and others. The children participate in singing Bhajans at Satsangs. Bal Vikas program teachings are primarily conducted by Sujatha Krishnamurthi and Poonam Ghullia. Several parents assist in various aspects of children's activities, such as story-telling, yoga asanas, Surya Namaskar, bhajans, and games. We owe our thanks to Praveen Betala, Shailesh Dubey, and Sujatha Krishnamurthy, to name a few parents who have helped on several occasions. Some guests have also given lectures about festivals in India.
The Bal Vikas program is directed toward pre-school and elementary school children. They meet second and fourth Sundays between 11:30am and 1:00pm .Parents and children are encouraged to suggest topics, prayers, stories for class discussions.

Note: Those who would like to receive messages sent to the Bal-Vikas enrollee group, please send e-mail to Sujatha Krishnamurthy: sujathakris59@gmail.com
Administrative Coordinator:
Sujatha Krishnamurthi: (269) 962-8466
Email:sujathakris59@gmail.com

Program Coordinators:
Poonam Ghullia: (269) 762-6007

Program Volunteers:

Pratima Koteka
Aparna Kumar


Testimony by a parent
We have been very lucky to be part of this community and of the Bal Vikas program - in a small community like this it is essential that our kids do not forget their roots and the heritage they have inherited and this program enables that. Thank you for all that you do for the community and the kids and my hope is to see this program flourish in the future.
Click Here for:



Discussion topics
Previously discussed topics:
What is OM (AUM)?
How to chant OM
Golden Rules - satyam vada...etc.
Mother's Day activities
Topics for future classes:
What is Dharma? What is Hindu Dharma?
Prayer and its significance.
Different prayers for chanting/learning by heart.
Names of deities in their homes, and those in the temple.
Festivals.
Puja, and its significance.
Stories to highlight moral values
Following website can be referred for information:
http://www.hinduism.fsnet.co.uk/
Another good resource:
http://www.balagokulam.org/
Various Hindu Prayers:
Hindu Prayers