Upcoming Temple Events
---
HARI OM
SATSANG SPONSORSHIPS NEEDED FOR 2019
We are thankful to numerous families who have helped sponsor satsangs and festivals at the temple during 2019. Please support the temple by picking a date from below for sponsoring a satsang during 2019. Board Members are available to provide you any guidance needed in sponsoring a satsang at the temple. You may contact Prabha Ravi (269-808-6394) or any Board Member for help.
July 14th 2019
Aug 11th 2019 - Maha Laxmi Havan
Aut 25th 2019 - Nanda Mahotsav
Sept 2nd 2019 - Ganesh Chaturthi
Sept 8th 2019
Oct 7th 2019 - Vijayadasami
Oct 13th 2019
Nov 10th 2019
Dec 8th 2019



TEMPLE ANNIVERSARY SATSANG TO HONOR IACCT LIFE MEMBERS
You are cordially invited to a special satsang on Sunday, April 28, 2019 to commemorate Temple Anniversary, and to recognize IACCT Life Members. IACCT Life Members have made significant contributions to the temple with their generous support. Board is very pleased to dedicate the anniversary satsang to recognize and honor them.



UGADI CELEBRATION
Sunday, April 6th 2019 at 6:30 PM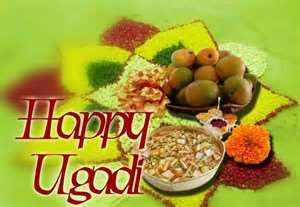 IACCT will celebrate Ugadi/Gudhi Padwa - the Hindu New Year day on Saturday, April 6, 2019. The program will begin with a pooja in the Temple at 6:30 PM followed by bhajans, archana, arati and dinner prasadam.
Sponsored By: Satish & Saujanya Gullapalli; Raj & Tirumala Thota; Vamsi & Chethana Garikapati; Suresh & Jyotsna Parsa; Chandramouli & Sumathi Madala; Kiran & Praveena Muppireddy; Sai & Sahithi Gavirneni

SRIRAMA NAVAMI CELEBRATION
Saturday, April 6th 2019 to Sunday, April 14th, 2019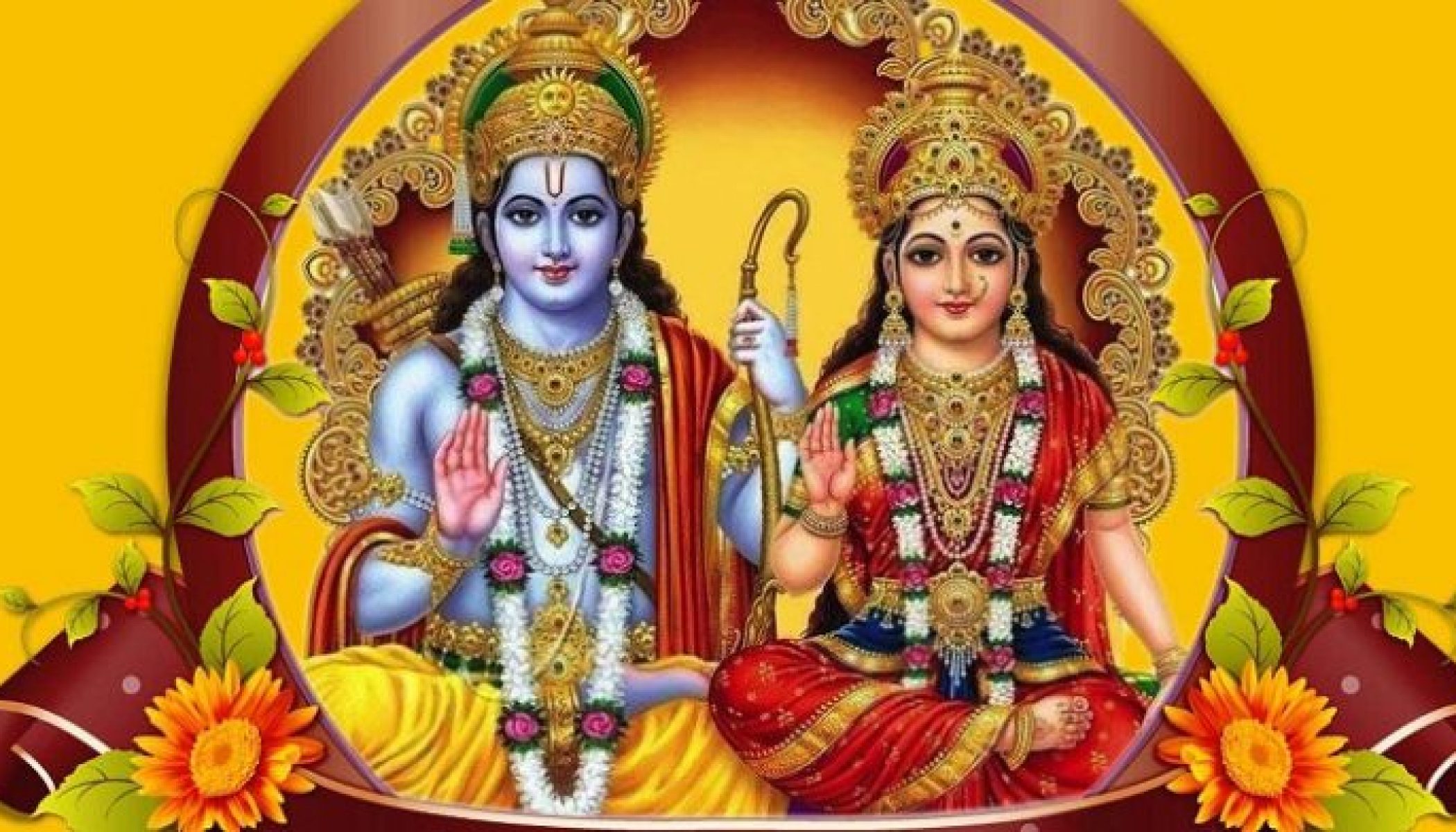 IACCT will celebrate Rama Navami during April 6, 2019 to April 14, 2019. Please join the celebration of the birth of Lord Rama during the nine-day period. There will be Lord Rama pooja every evening at 6:30 PM. On Rama Navami day, Sunday, April 14, 2019 there will be pooja beginning at 11:30 AM, a skit by Balvikas children (see flyer), bhajans, archana, and arati, followed by lunch prasadam.
Sponsored By: Govindan Subramanian & Tayi Harathi; Anmol & Ashwini; Nandkishor & Sangeeta Pagaria; Rajesh & Tina Prasad

PLAY ON DASHAVATAR
Sunday April 14th, 2019 at 10:00 AM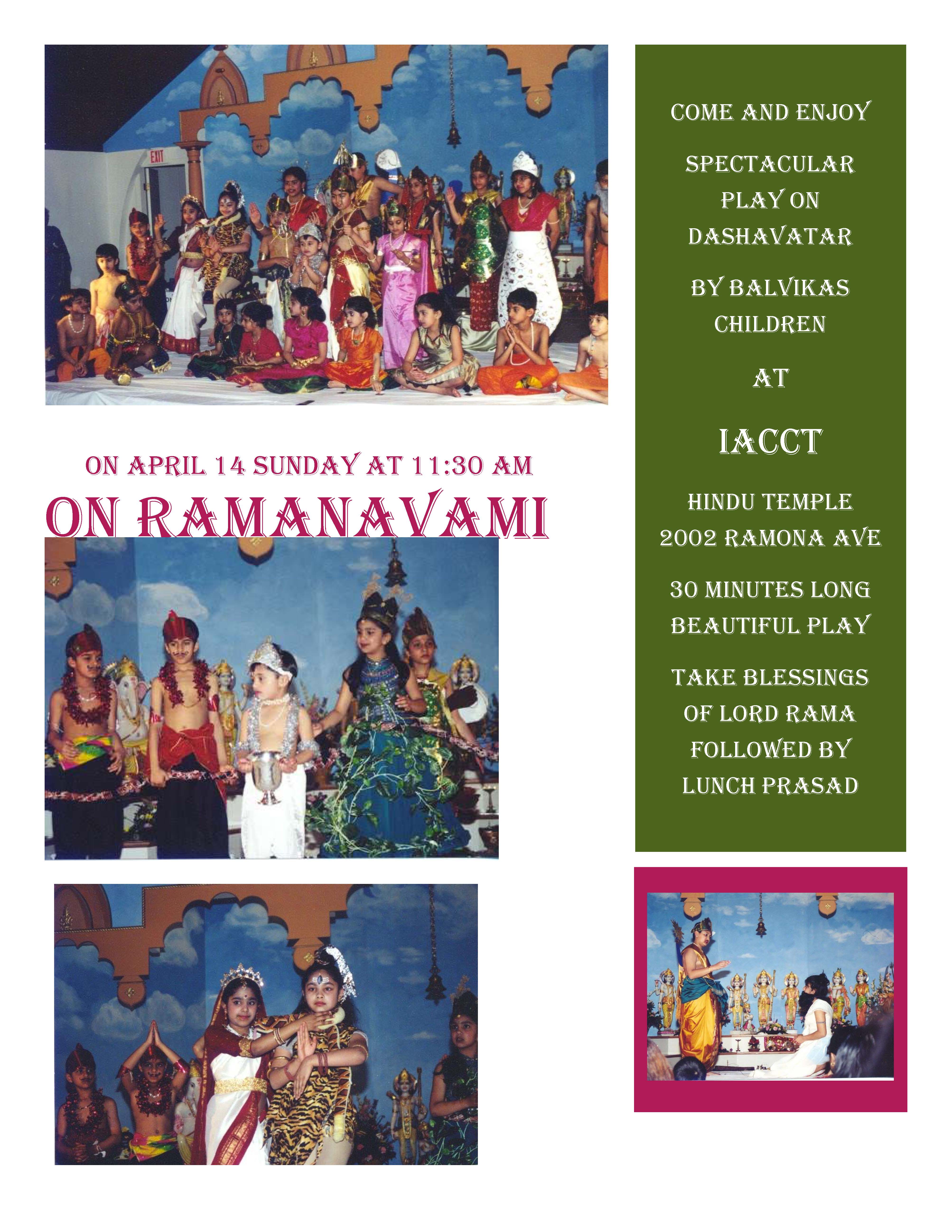 Come and enjoy spectacular play on Dashavatar by Balvikas children at temple 30 minutes long play. Take blessings of lord Rama, followed by Lunch prasad.

SPELLING BEE, VOCABULARY BEE, MATH BEE, GEOGRAPHY BEE. and SCIENCE BEE
Sunday, April 28, 2019, 9:00am at Engineering Campus, WMU
Regional Contest for K-12th graders. Registration at North South Foundation (www.northsouth.org) by April 14, 2019. Contact Tarun Gupta (guptat57@yahoo.com or 269-276-3361 or 269-352-3021). Per NSF rules, on-site registration is not allowed. The 2019 National Finals will be held from August 9 through August 11 at Massachusetts Institute of Technology (MIT), MA.



ANNUAL MEMBERSHIP DRIVE FOR 2019
As you may know, your annual membership dues are an essential part of operating budget of the temple. Without your membership support, the temple cannot provide ongoing services for everyone. Annual membership dues pay for one calendar year. For 2019, we have received membership from over 75 families so far. Please support the temple by sending a check for your annual taxdeductible membership for 2019.

IACCT - iOS App - Free


Download it from Apple App Store - IACCT App LINK
We are pleased to announce that iOS app for IACCT is avaialable on Apple App store for Free download ! Search 'IACCT' on the app store and download it.


For information on Temple Fund Raising Initiative please contact:
Brij Bhargava: (269) 375-6474 Email:Brij_Bhargava@yahoo.com

*** All donations made to temple are Tax Deductible ***