Upcoming Temple Events
---
HARI OM
VARA MAHALAKSHMI KUMKUMA ARCHANA
on FRIDAY, AUGUST 9th at 5:30 PM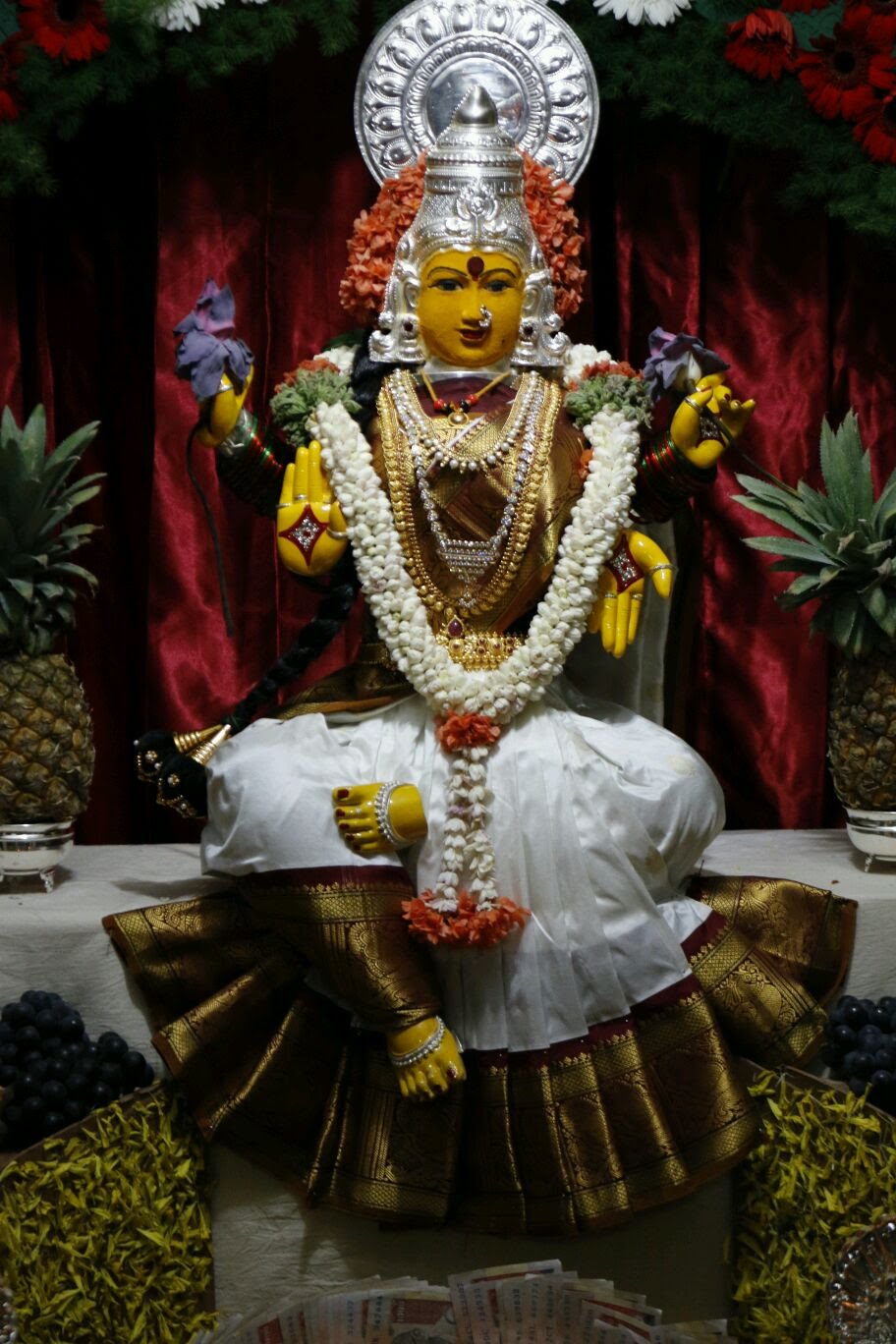 Shravan Masa Vara Maha Lakshmi Auspicious Day: Laksha Mahalakhsmi Kumkuma Archana, open to ladies and girls above 10 yrs age. Panditji will lead the pooja for up to 108 ladies who will chant 1008 names of Mahalakshmi; thus, the participants will accomplish over 108,000 chants of Mahalakshmi. Those who are attending, please bring two fruits to pooja.
Dinner parasadam will be served after pooja.This event is equivalent to 108 Mahalakshmis attending pooja, and has the potential for Mahalakshmi Asta Anugraha to bring about generational happiness, remove generational poverty, sorrow and fear. For Kumkuma Archana, a donation of $51 for each participant is required. We are grateful for big participation in the past, and are counting on great community support to fill the prayer hall with reverberations of Mahalakshmi chants. Please support IACCT by participating in Kumkuma Archana.
Please sign up for the events at the temple or by contacting Panditji at 269-324-8224.
Sponsored By: Mayank & Sakshi Srivastava; Manish & Neha Sharma; Jayesh & Neha Sharma Saroj & Lara Mohanty; Subhranshu & Jasbir Samanta; Raj & Neetu Tiwari; Biswajit & Rekha Behera; Bijay & Rita Pusty

VARA MAHALAKSHMI HOMA CELEBRATION PROGRAM
on SUNDAY, AUGUST 11th at 10:00 AM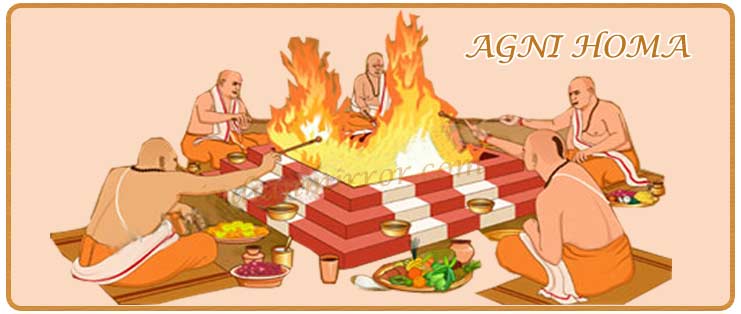 Ganesha Navagraha Mritunjaya MahaLakshmi Yagna (Havan, Homa, and Annadhana), open to all. Our Panditji will lead the Modaka Ganesha Havan, Navagraha Havan, Ashtalakshmi and Kanakadhara Maha Stotra pooja outdoors. This Homa is very powerful and has the potential for Nirvighanata, Vijaya, Manashanti, Manashantosha, Sakala Navagraha Dosha Nivarana (Mangala and Shani Dosha), Apamrituya Nivarana and Sarva Roga Nivarana.
Please support the temple by participating in Kumkuma Archana alone for $51 and/or Homa alone for $101 or the entire Maha Yagna for $251. Please sign up for the events at the temple or by contacting Panditji at 269-324-8224.
SHRI KRISHNA JANMASHTAMI CELEBRATION
on Saturday, August 24th, 2019, 10:00 PM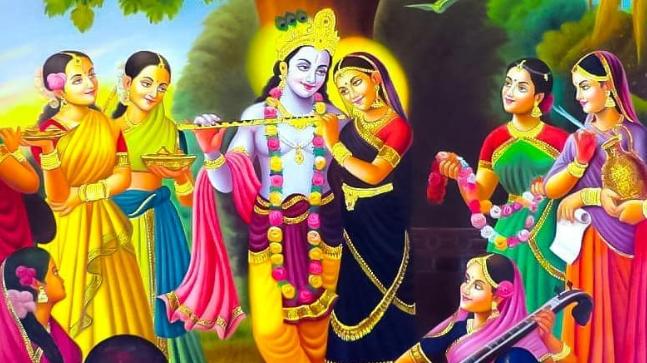 Bhajans, light prasadam available after midnight.
Sponsored By: Dharmesh & Niraj Rajpoot

NAND MAHOTSAV CELEBRATION
on Saturday, August 25th, 2019, 11:00 AM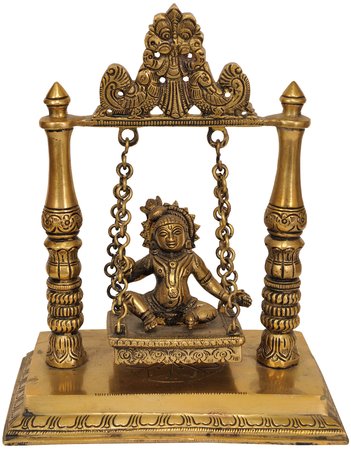 Please join us for Bhajans, Aarti and Lunch Prasadam.
Sponsored By: Dharmesh & Niraj Rajpoot

LORD JAGANNATH RATH YATRA
on SUNDAY, JULY 28 at 11:30 AM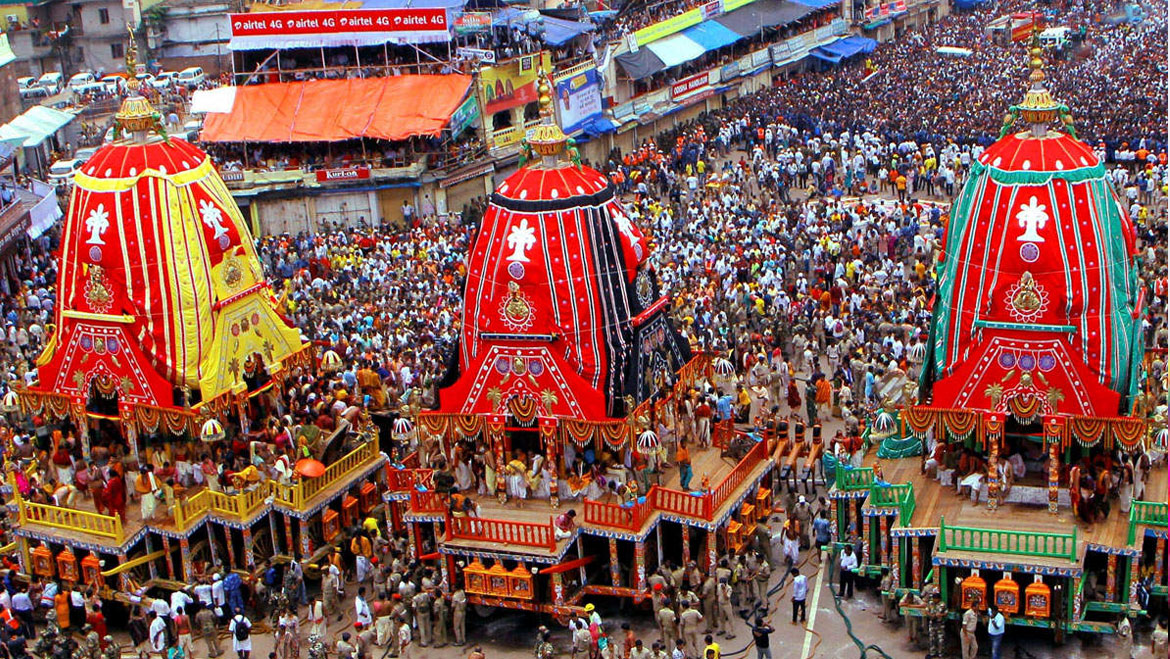 Lord Jagannath Rath Yatra will be celebrated at the Temple on July 28 (Sunday) followed by Satsang. Rath Yatra, also known as the Chariot Festival, is one of the major Hindu festivals associated with Lord Jagannath held at Puri in Orissa state, India. The deities -Jagannath, Balabhadra and Subhadra are worshipped within the temple throughout the year, but on the day of the Chariot Festival they are taken through the streets, allowing people of all religions and castes to have the privilege of worshipping them. Three richly decorated chariots, resembling temple structures, are pulled through the streets of Puri. This commemorates the annual journey of Lord Jagannath, Lord Balabhadra and their sister Subhadra to the queen's temple (Gundicha Mandir). The Rath Yatra will be celebrated at the IACCT temple with the pulling of the traditional Rath, a special program on the significance of the festival and Satsang.
Sponsored By: Saroj & Lara Mohanty; Subhranshu & Jasbir Samanta; Raj & Neetu Tiwari; Biswajit & Rekha Behera; Bijay & Rita Pusty

SPECIAL PRAVACHANAM IN TELUGU LANGUAGE
ON MONDAY, JULY 1, 2019 from 6:30 PM to 8:00 PM by SRI SAMPOORNANANDAGIRI SWAMIJI

Nitya Jeevitamlo Bhagavadgita Samanvayam

Shrothriya Brahmanista Poojya Sri Sampoornanandagiri Swamiji followed the footsteps of Sri Adi Sankaracharyagaru in the thought of Advaita since his very early age. He earned a doctoral degree in Kasi. Swamiji dedicated himself in educating and explaining Vaidhika Dharma, Dharmika and Aadyathmika knowledge for 20 years. His profound knowledge on Upanishads, Brahmasutra Bhashyam, Pathanjali Yoga Darshanam made him stood at the top to answer any sort of questions people have in this area. The ordinary people can easily follow his interpretations and explanations. Swamiji is known for his spiritual discourses across India. He conducted many Jnana Yagnas in different cities and small villages. Sampoornanandagiri Swamiji also delivered his preachings on patanjali Yoga Sastra, Dasopanishath and Viveka Chudamani through many regular Telugu TV channels. After completion of Ph.D in Kaashi, Swamiji founded Sri Jagadguru Matam Sri Lalithambika supeetam in Hyderabad. Swamiji is also serving as Uttara Peethadipathi of Sukha Brahmasramam in Kalahasthi established by Sri Vidya Prakashanandagiri Swamiji, and takes care of the activities at that ashramam.
Please contact Muralidhar Ghantasala (269-353-1763) for further information.


KALAMAZOO COLLEGE AND SEMINARY STUDENTS VISIT IACCT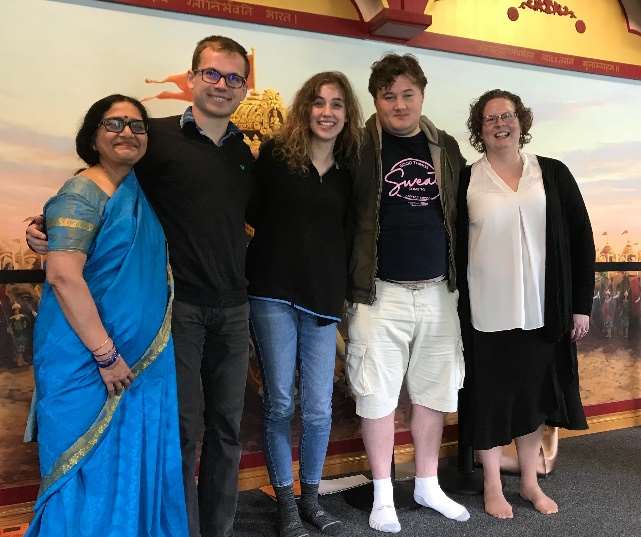 On May 12th, Elizabeth Candido, Kalamazoo College Chaplain and Office of Religious and Spiritual Life visited IACCT with three of her students, Sarah, Dana, and Leo. They were greeted and given a tour of the temple. Sujatha Krishnamurthy explained to them about the different Hindu festivals, Bal Vikas and its teachings, and all other regular activities that our temple has to offer to the community. They attended the pooja, satsang, and enjoyed the sumptuous lunch prasad. Ben Beaghan, a student of Seminary, visited our temple on May 13th. He had an interesting dialogue with our temple Panditji and Sujatha Krishnamurthy on several topics such as Hinduism, beliefs, and practices. Both Ben and visitors from Kalamazoo College were presented with 2019 IACCT Calendar and a copy of the book on Hinduism by Swami Dayananda Saraswathi.


ANNUAL MEMBERSHIP DRIVE FOR 2019
As you may know, your annual membership dues are an essential part of operating budget of the temple. Without your membership support, the temple cannot provide ongoing services for everyone. Annual membership dues pay for one calendar year. For 2019, we have received memberships from 115 families so far. We are behind the target of 150. Please support the temple by sending a check for your annual taxdeductible membership for 2019.

SATSANG SPONSORSHIPS NEEDED FOR 2019
We are thankful to numerous families who have helped sponsor satsangs and festivals at the temple during 2019. Please support the temple by picking a date from below for sponsoring a satsang during 2019. Board Members are available to provide you any guidance needed in sponsoring a satsang at the temple. You may contact Prabha Ravi (269-808-6394) or any Board Member for help.


IACCT - iOS App - Free


Download it from Apple App Store - IACCT App LINK
We are pleased to announce that iOS app for IACCT is avaialable on Apple App store for Free download ! Search 'IACCT' on the app store and download it.


For information on Temple Fund Raising Initiative please contact:
Brij Bhargava: (269) 375-6474

*** All donations made to temple are Tax Deductible ***